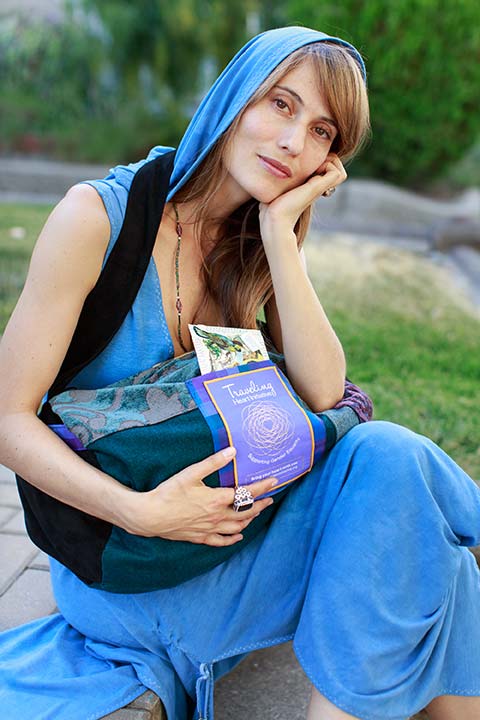 Ina Nectar is proud to be in partnership with the Women's Wisdom Initiative, a non-profit with a shared vision of reaching and aiding survivors of gender-based violence with a message of healing, hope, and solidarity. Collaborating with goodwill, creativity and ingenuity, Ina Nectar and The Women's Wisdom Initiative hope to expand the The Traveling Heart Initiative to a greater number of survivors and those who support the movement to end gender-based violence.
Ina Nectar is responsible for production, design, and fund-raising for The Traveling Heart Initiative, an initiative that creates beautiful, one-of-a-kind, handmade bags that are made as gifts for survivors of gender-based violence and symbolize global solidarity. For every bag purchased, one is donated to a survivor, and 80% of all proceeds are donated directly to the Women's Wisdom Initiative so that they may flourish and support survivors in need.
In the US, a woman is sexually assaulted every 2 minutes. Globally, 1 in 3 women will be assaulted in her lifetime. After an attack, if a survivor chooses to report the crime, she must go through a sexual assault forensic exam or "rape kit" in order to help prosecute an attacker. This is a battery of tests and information collecting that is necessary but invasive. Sometimes she cannot shower, use the restroom, comb her hair, or change her clothes for up to four hours.  Fortunately, advocates from rape crisis centers across the US are on hand to help these women through the ordeal and can sometimes provide a small, plastic bag with information and clean clothing.  This is called a Hospital Bag.
We have learned that only 1 in 4 rape crises centers can afford to distribute 'hospital bags'.  Typically generic in scope and usually plastic, these hospital bags are a useful but utilitarian item. We think survivors deserve better.
Our hope is to greet a survivor in a dark moment with a loving embrace and a beautiful bag filled with items donated by compassionate allies. In the pocket of the bag resides a hand-made postcard made by another survivor through the Traveling Postcard Initiative.
"After a long and invasive SART exam, the survivor stood slowly from the hospital bed and prepared to get dressed. As her advocate, I was bringing a change of clothes and brought her the items in a Traveling Heart Initiative bag.
Her eyes widened as she saw the beautiful fabric bag. I explained it was hers and that it contained her clothes, personal items and a postcard made for her with a message of healing and hope. I told her that the bag and the postcard were created by a person she had never met but that wanted her to know she was not alone.
She stopped, made eye contact and took the bag. She began to cry in earnest, moved by the fact that people she would never meet wanted her to feel cared about. "
Sexual Assault Advocate, Northern California
Become an Ally:
Our Traveling Heart Initiative-"THI" bag is a ' 1 for 1 model of giving ' and dependent on purchases from people like you!
With your purchase of one bag, we will deliver one beautiful handmade THI bag to you, and one THI bag to a survivor of sexual assault. Purchase a gorgeous bag perfect for weekend trips, and make a difference too!
To learn more about the Women's Wisdom Initiative go to: http://womenswisdominitiative.org/
Special thanks to Sonoma USA, and our seamstress Patricia Elledge for donating materials and helping to create quality, handmade bags right here in Sonoma County.